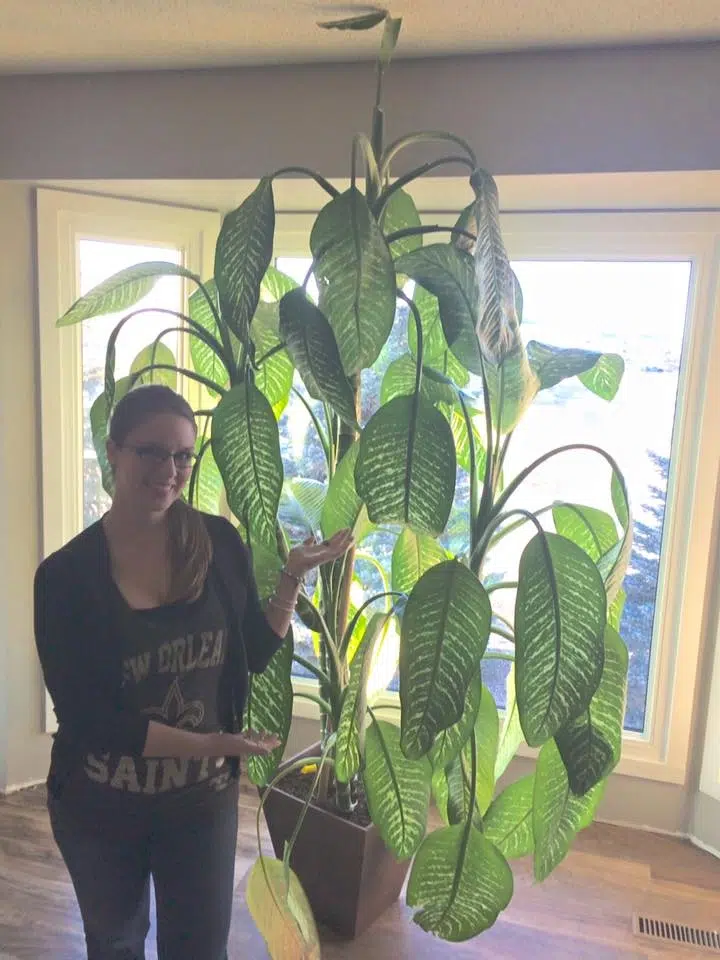 This plant is one of my favourite things I have.  Many years ago I visited a friend in Yorkton and he had this beautiful, huge plant in his bay window.  I fell in love.  When he moved away 5 years ago he left a branch from it in a little bucket on my doorstep with hopes that I would be able to make it grow.  And I did!  I don't have a green thumb but I am lucky to have a lot of natural light in my house (these plants don't mind the shade either)  and I remember to water it every once in a while.  But every time I talk about it, I have to message my friend saying, "What's the name of our tree again?"
It's a Dieffenbachia, a type of tropical flowering plants and is originally from Mexico and areas south of Argentina.  Fun Facts about my plant that I did not know:   It was once commonly called "dumb canes"  which referred to the poisoning effect of raphides, which can cause temporary inability to speak;  and because of that, it is also known as the mother-in-law's tongue.   The plant was named by  Heinrich Wilhelm Schott, director of the Botanical Gardens in Vienna to honor his head gardener Joseph Dieffenbach who lived from 1796-1863.  (Thank you Wikipedia).
And if you missed Danny Ismond's and my plant war here's what happened.
Two days ago Danny posted a picture of his office plant:

I had to let him know that mine was bigger:

Then he tried to say that his had magically grown overnight:

But it's still pretty tiny to me:

Tonya 1 … Danny 0.