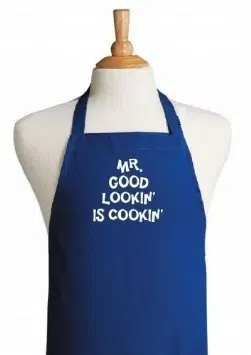 1. Kiss the cook
2. It's ready when it's ready!
3. I flip burgers and birds
4. My other apron is a Ferrari
5. I'm a barbecutie
5. More hot sauce!
6. Bros before burgers
7. Commander and Chef
8. Prime rib minister
9. Grillin like a villain
10. I got the burgers, who has the beers?
11. I like beer
12. If this BBQ is a rockin, don't come a knockin
13. Meat me at the BBQ
14. Got BBQ?
15. I'm the real burger king.