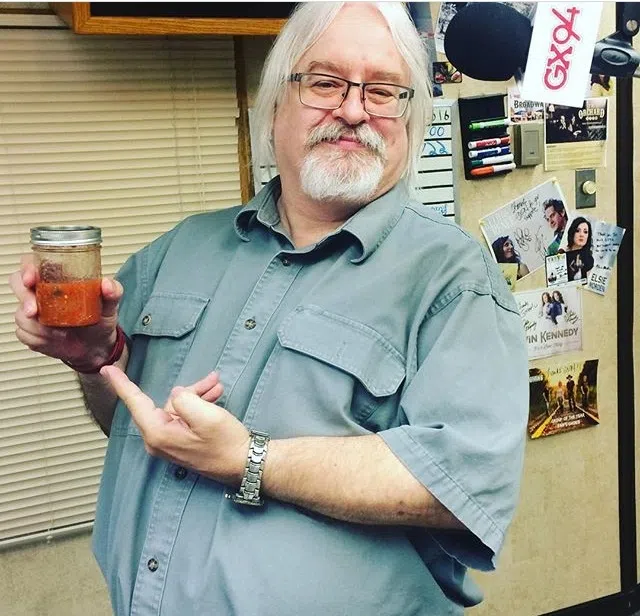 Craig Wallebeck was on holidays last week and he told me he was going to try to make salsa for the first time ever.  I made him promise to bring us some if he did!  Thanks Craig for sharing!  It was so good!  This was the recipe he found and tried.
-5 lbs of tomatoes (roughly), blanched, skins removed and chopped. Save the liquid (if you desire).
-1 each medium green, yellow, orange and/or red bell pepper chopped as fine or coarse as you like. (You can also roast the peppers and skin them if you prefer. I didn't.)
-2 1/2 to 3 jalapenos seeded, stems removed and diced
-3 cloves garlic, minced
-1 cup apple cider vinegar (you can use white or rice vinegar instead and/or combine any to suit)
-1/2 cup loosely packed fresh cilantro or parsely rough chopped, including stems
-2 teaspoon dried oregano
-1/2 teaspoon ground cumin
-2 teaspoons salt
-1 to 2 tablespoon sugar or more to taste
-Optional (but I used them) 14 ounce can of tomato sauce and a small can of tomato paste
While sterilizing canning equipment, chop, mince or dice ingredients and put in a large stock pot, bring to a boil and simmer for at least 10 minutes, longer if you want the salsa thicker, even if you add the tomato paste. Taste to see if you need to add salt, sugar or acid. Can as you normally would, boiling the jars for 20 minutes. Let then cool on a towel before storing. The canned salsa should last up to  year (although, if you're like me, it'll be used/eaten long before then.
Tonya here:  This salsa was sweet and delicious which really caught mine and Danny's attention because we're not fans of really spicy and it's not every day you get a sweet salsa.  Turns out Craig had made a mistake.  He added about 2 Tbsp. of salt instead of 2 tsp. so he had to compensate with the sugar.  Way to go Craig, because this was awesome!