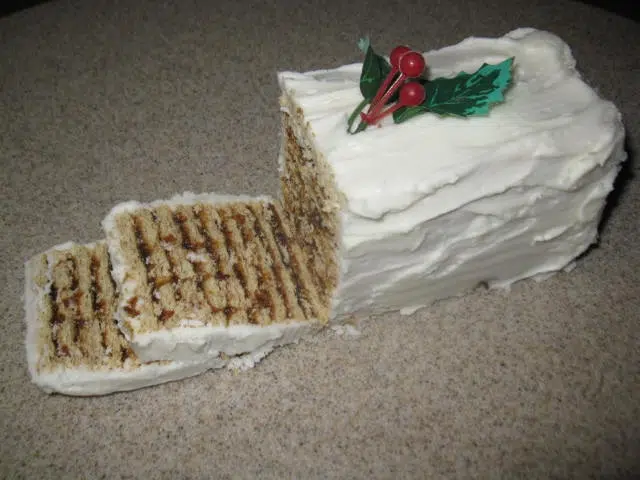 Today's recipe is from Faye Campbell from Foam Lake.  She sent me a picture of it as well.   She wrote, my mother used to make these cute little cakes.  They are tasty and simple to make.  I iced mine with white icing; Mom usually iced hers with chocolate icing.
Thanks to Faye for the recipe.  Doesn't it look so good!
Date Loaf                                                                                
1 box whole graham wafers
1 ½ cups dates
½ cup sugar, or less
1 cup water
In a medium sauce pan on low to medium heat cook dates, sugar, and water until thick.  Watch it carefully so it doesn't burn.  On a large plate build cake.  Start with one graham wafer on the plate, spread dates on wafer, then place next graham wafer on top and continue layering until 1 whole package is used, 9 graham wafers.  (Don't break wafers in half).  Ice with butter icing.
Butter Icing                                                             Chocolate Icing
3 Tbsp. butter                                                           3 Tbsp. milk
2 cups icing sugar                                                    2 cups icing sugar
3 Tbsp. milk                                                             2 Tbsp. cocoa
1 tsp. vanilla                                                             3 Tbsp. coffee
In a bowl mix together butter, sugar, milk, and vanilla until smooth.  Spread over all sides of the cake. Cover cake with cling wrap and set on counter overnight.  Cut in thin slices the next day.