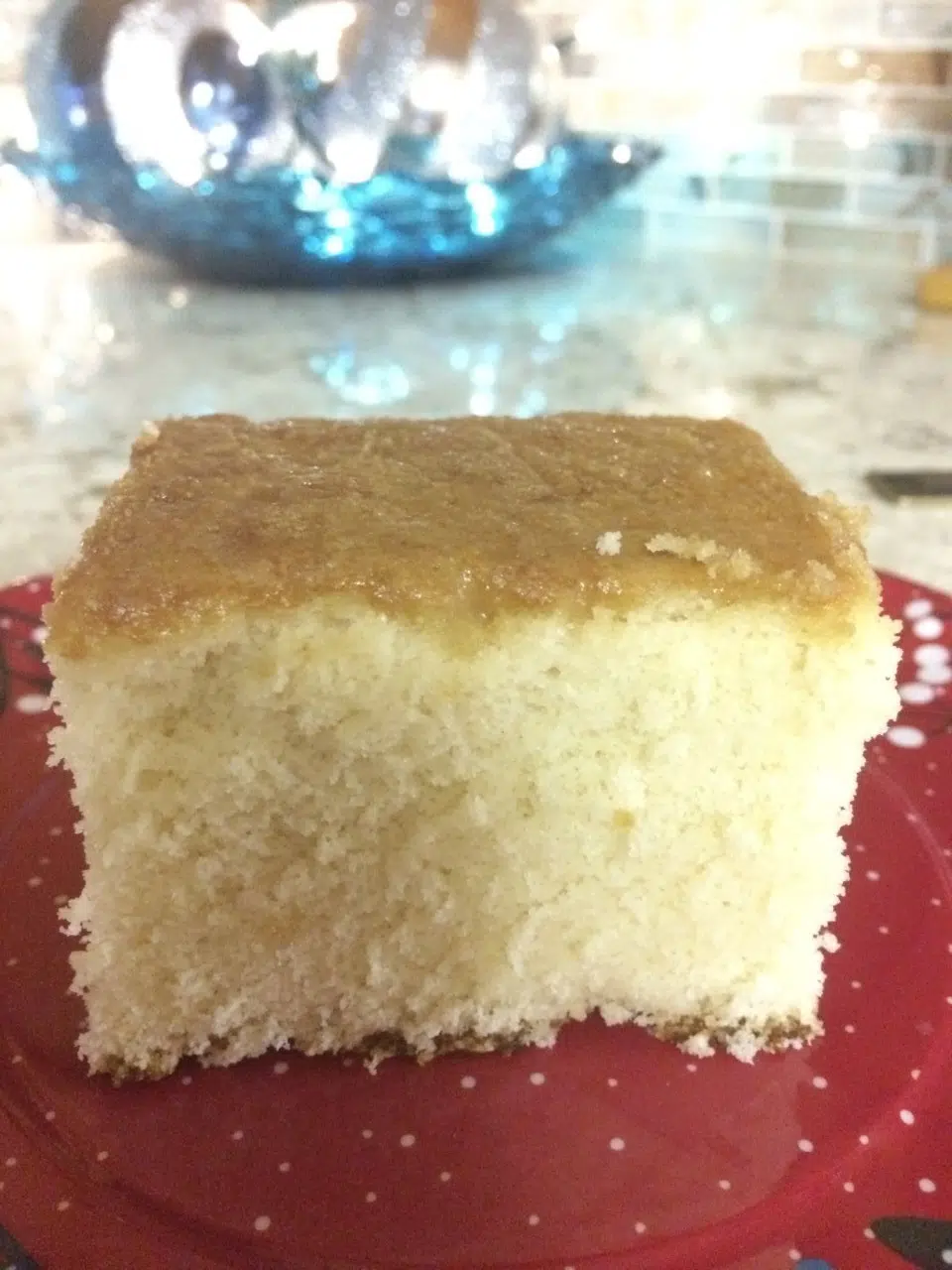 Last night I whipped up a Lazy Daisy Cake.  I've never heard of this cake before, but after making it, I'm pretty sure I've had it, I just didn't know what it was called.   A big thank you goes out to Ruth Morrow from Kelvington for giving me her recipe.  I did have a bit of trouble with the frosting, hence why there isn't a nice thick layer of brown sugar, coconut, frosting on top of the cake in the picture.
When I made this, the frosting wasn't quite mixing for me and when I put the cake back in the oven to broil it, the frosting melted, so much that I could pour it off of the cake.  But the cake itself was so delicious that I had to bring it into work today.
After a phone conversation with Ruth this morning, we found out a couple of things were missed in the frosting instructions so I know where it went wrong.  As my boss Brad Bazin says, baking gone wrong is still edible.  Never throw it out, someone will eat it.

Lazy Daisy Cake
4 eggs
2 cups white sugar
2 tsp. vanilla
2 cups flour
2 tsp. baking powder
½ tsp. salt
1 cup milk
¼ cup margarine
Preheat oven to 350°F.  In a large bowl beat eggs, sugar, and vanilla until thick, about 4 minutes.  Combine flour, baking powder, and salt.  Add to egg mixture; beat until mixed.  In a sauce pan bring milk and margarine to a boil, stirring constantly.  Add to batter and beat until combined.  Pour into a greased 9ʺ x 13ʺ pan.  Bake for 30 to 35 minutes or until cake is done.
Frosting:
1 ½ cups brown sugar
½ cups margarine, melted
½ cup cream
2 cups coconut
In a saucepan over low-medium heat melt margarine.  Add sugar, cream, and coconut, stirring until the sugar has dissolved.  Spread over warm cake.  Broil until lightly browned, about 3 to 4 minutes.  Watch carefully!
Tonya's Tips:  My oven runs hot so my cake was done after 25 minutes.  When broiling the cake, watch it very carefully, as soon as the frosting starts to bubble take it out of the oven.  Multiple women have told me today that this is a tricky cake to make.  But it is delicious and well worth it.

*Thank you to the Yorkton Co-op for providing the ingredients.