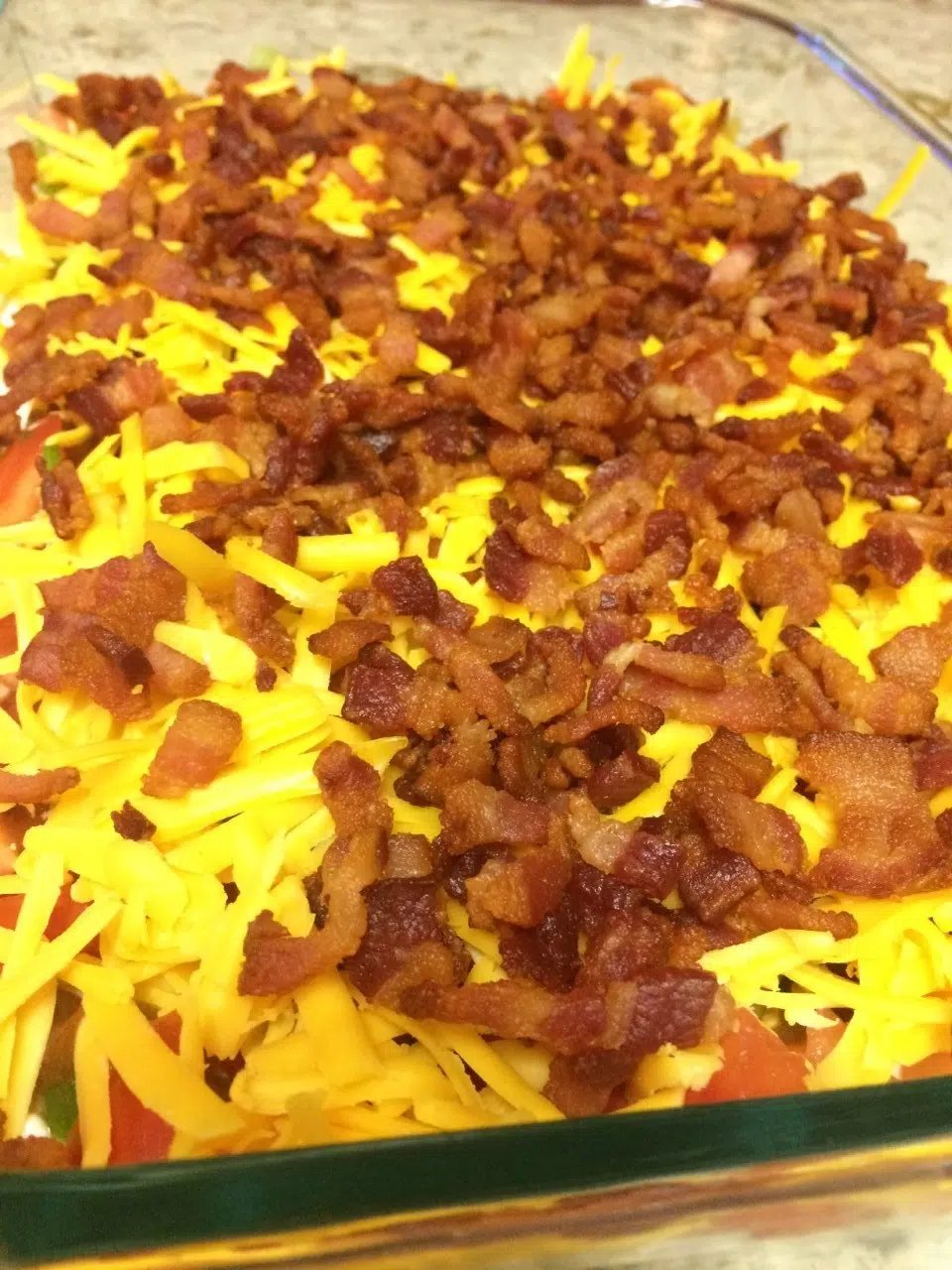 At a party, a potluck, a gathering with food, if there is a surprise dip, that's where you will find me.   I've never actually made one before, which is probably a good thing because I'm the one eating the entire plate.   Doris Wihnan from Preeceville sent me her Cheddar Bacon Dip.  What stood out for me, was the 1 pound of bacon you sprinkle on top.  YUM!  I definitely recommend this recipe.  It's good.
Cheddar Bacon Dip
1 – 8oz. pkg. cream cheese
1 cup sour cream
5 green onions, chopped
4 medium tomatoes, chopped
1 large green pepper, chopped
1 jar taco sauce
2 cups cheddar cheese, shredded
1 lb. bacon, cooked and crumbled
In a bowl, beat cream cheese and sour cream until smooth.  Spread in an ungreased 9ʺ x 13ʺ pan.
In a separate bowl combine onions, tomatoes, and green pepper; sprinkle over the cream cheese layer.
Pour the taco sauce over the vegetable layer.
Sprinkle with cheddar cheese.
Refrigerate.  Just before serving, sprinkle bacon all over.  Serve with any kind of chips.
Tonya's Tip:  If you are like me and you have never used taco sauce before, it's not salsa, it's actually a sauce, where the tomatoes are finely pureed.  I used Old El Paso salsa sauce.  It comes in a small bottle.
*Thank you to the Yorkton Co-op for providing the ingredients.