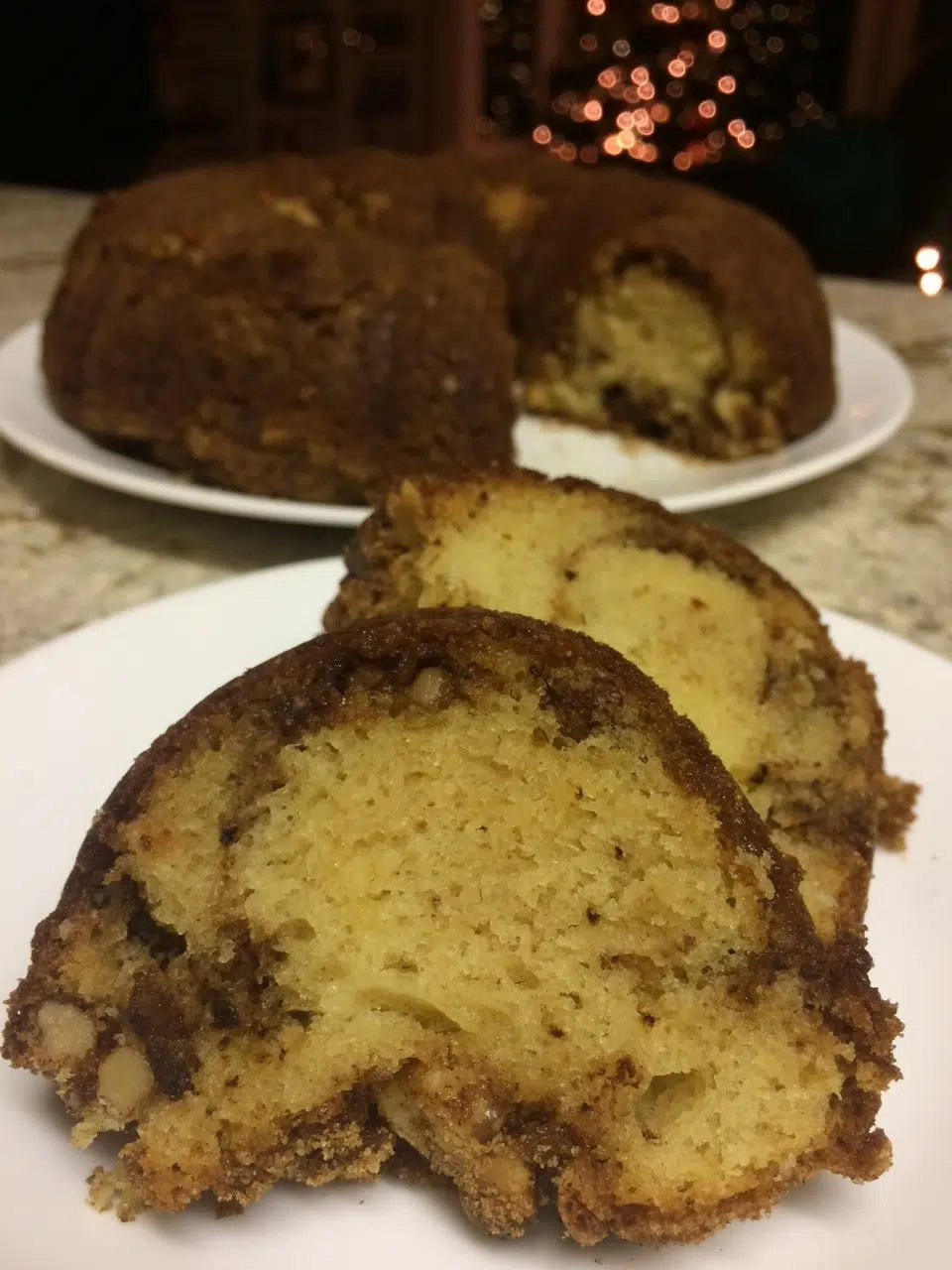 I am so proud of today's recipe, I think it turned out great.  I always question my baking skills because most of the time I am making a new recipe, so I never really know what I'm doing.  But this was awesome.  Thank you to Marcella Shewchuk from Rama for sharing your recipe.  Danny Ismond and my boss thank you too!  
Coffee Ring
Batter:
½ cup butter or margarine
1 cup sugar
2 eggs
1 tsp. vanilla
1 cup flour
1 tsp. baking soda
1 ½ tsp. baking powder
1 cup sour cream
Walnut Mixture:      
⅔ cup walnuts, chopped
½ cup brown sugar
1 tsp. cinnamon
Preheat oven to 350°F.  Mix batter ingredients together.
Place half of the batter in a tube pan.  In a small bowl, mix walnuts, sugar and cinnamon together.  Sprinkle walnut mixture over batter in pan.  Add the rest of the batter and sprinkle the remaining walnut mixture over top.
Bake for about 45 minutes.
Tonya here:  I spoke to Marcella and asked if she really just mixes all of the batter ingredients together, simple as that.  She does, because she likes to save time.  Makes sense for a seasoned baker.  I wanted to make sure I was doing this right so I added a few more steps.
In a large bowl I creamed the butter and sugar until light and fluffy.  I added the eggs, one at a time, beating after each one.  Then I added the vanilla.  In a separate bowl I combined the flour, baking powder, and baking soda.  Then I added it to the creamed mixture alternately with the sour cream.
When I was all done and the cake was made, my husband commented that it would look so pretty if I made a glaze for it.  So, I made a glaze.
1 oz. cream cheese
¼ cup icing sugar
2 Tbsp. butter
⅛ tsp. of vanilla
In a small bowl beat ingredients together.  Then drizzle over coffee ring.  I warmed it up slightly in the microwave so it was easier to drizzle.

*Thank you to the Yorkton Co-op for providing the ingredients.