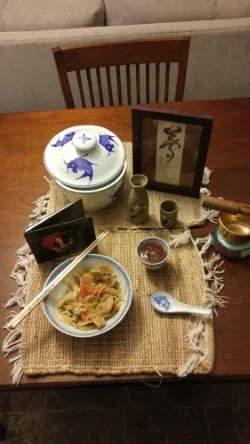 GX94 Morning News, Craig Wallebeck stepped up to the plate, or the kitchen counter, to do some cooking this week.  Thank you to Florence Bodnarchuk from Canora for sharing her recipe with us.  This meal was so good that Craig said it's now in his regular meal rotation at home.
Chop Suey
2 Tbsp. oil
1 garlic clove, minced
2 tsp. salt
Beef, chicken, or pork, thinly sliced
1 small onion, chopped into large pieces
1 ½ Tbsp. Soy sauce
1 tsp. sugar
3 stems Bok Choy, cut diagonally
1 celery stick, cut diagonally
1 cup cabbage
1 can bean sprouts
1 can mushrooms
1 can bamboo shoots
¾ cup water
In a frying pan, heat oil.  Add garlic and salt.  Add meat and cook until almost done.
Add onion, Soy sauce, and sugar.  Add rest of the vegetables and continue stir-frying. Add water.  Cook for a few minutes.   Thicken with cornstarch if need be.
Florence wrote:  I use raw hamburger meat or leftover cooked meat.  I use any vegetables available, such as peppers, cauliflower or carrots.  I use these and add or replace them to the other vegetables.
*Tonya here:  the fabulous final photo (at the beginning of the blog) was taken by Craig's wife.