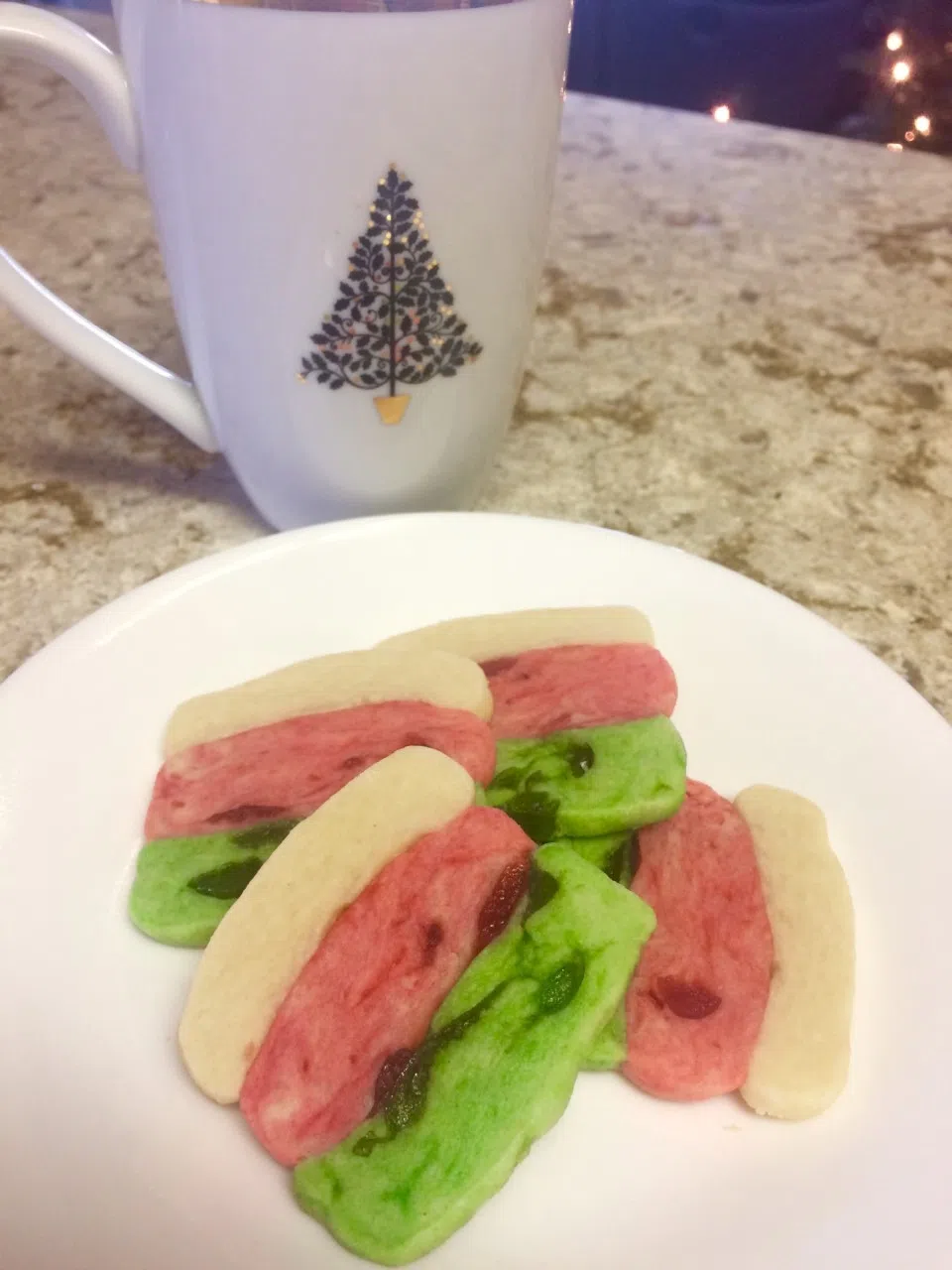 Thanks to Dianne Bonk from Wolseley for sending me today's recipe.  Neapolitan Cookies, just like their name, they have 3 layers of colour and look so pretty on a baking tray.  They taste really good too, they remind me of  a short bread cookie.  
Neapolitan Cookies
2 ¼ cups flour
½ tsp. baking powder
⅛ tsp. salt
1 cup butter
¼ cup sugar
1 egg
1 tsp. vanilla
¼ cup green candied cherries, chopped
¼ cup red candied cherries, chopped
red food colouring
green food colouring
In a medium bowl sift together flour, baking powder, and salt.  In a large bowl cream butter, sugar, egg and vanilla.  Stir in dry ingredients gradually, mixing well after each addition.
Divide dough into three equal portions.  Set one portion aside for plain layer.   Add red cherries and a few drops of red food colouring to second portion. Work the dough until the colour is evenly distributed in the dough.  Do the same for the third portion with the green cherries and green food colouring.  Chill dough for 1 hour.
Shape each portion into a 12ʺ x 2ʺ x ½ ʺ rectangle. Place layers on top of each other with pink layer in the middle.  Have a glass of water nearby and dip your fingers into the water and wet the top of each layer as you put them together.  This is really important to keep the layers from separating after they are baked.  Wrap the log in waxed paper and place on a cookie sheet to make it easier to handle.  Chill until firm enough to slice, 1 ½ to 2 hours.
Preheat oven to 350°F.  Slice log in ⅛ʺ slices.  Place on ungreased baking sheets.  They do spread out so give them room to grow.  Bake for 10 to 12 minutes.  Cool before removing from pan.  Yield 5 dozen.
Dianne wrote:  These cookies are a must have at Christmas in our home.  My son lived in Hungary for seven years and he phoned home to get the recipe so Christmas away would be more like at home.  They are so pretty and taste yummy!
Tonya's Tip: When I made this I got about 3 dozen cookies.  Watch them carefully, they burn easily.  By the last dozen I had the timing down, so they turned out a perfect golden colour.
*Thank you to the Yorkton Co-op for providing the ingredients.