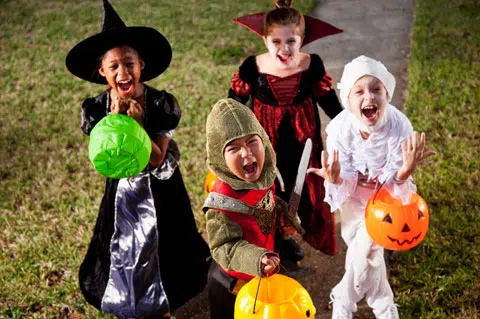 Have some fun with trick or treaters this Halloween. Here are some fun ways to confuse the little ones.
• Get a few friends to wait in your living room. When trick-or-treaters come to the door, say, "Come in." When they do, have everyone yell, "Surprise!"
• Get everyone who comes to the door to come in and see if they can figure out what's wrong with your dishwasher. Insist that it makes an unnatural sound.
• After you give them candy, hand the trick-or-treaters a bill.
• Hand out menus to the trick-or-treaters and let them order their candy. Keep asking if anyone wants to see the wine list.
• Answer the door dressed as a pilgrim. Stare at the trick-or-treaters for a moment, pretend to be confused, and start flipping through a calendar.
• Instead of candy, give away colored eggs. If anyone protests, explain that the eggs are the only thing you had left over from Easter.
• Answer the door dressed as a dentist and give the trick or-treaters a lecture on tooth decay.
• Answer the door with a mouthful of M&M's and several half-eaten candy bars in your hands. Act surprised, and close the door. Open it again in a few seconds, and insist that you don't have any candy.