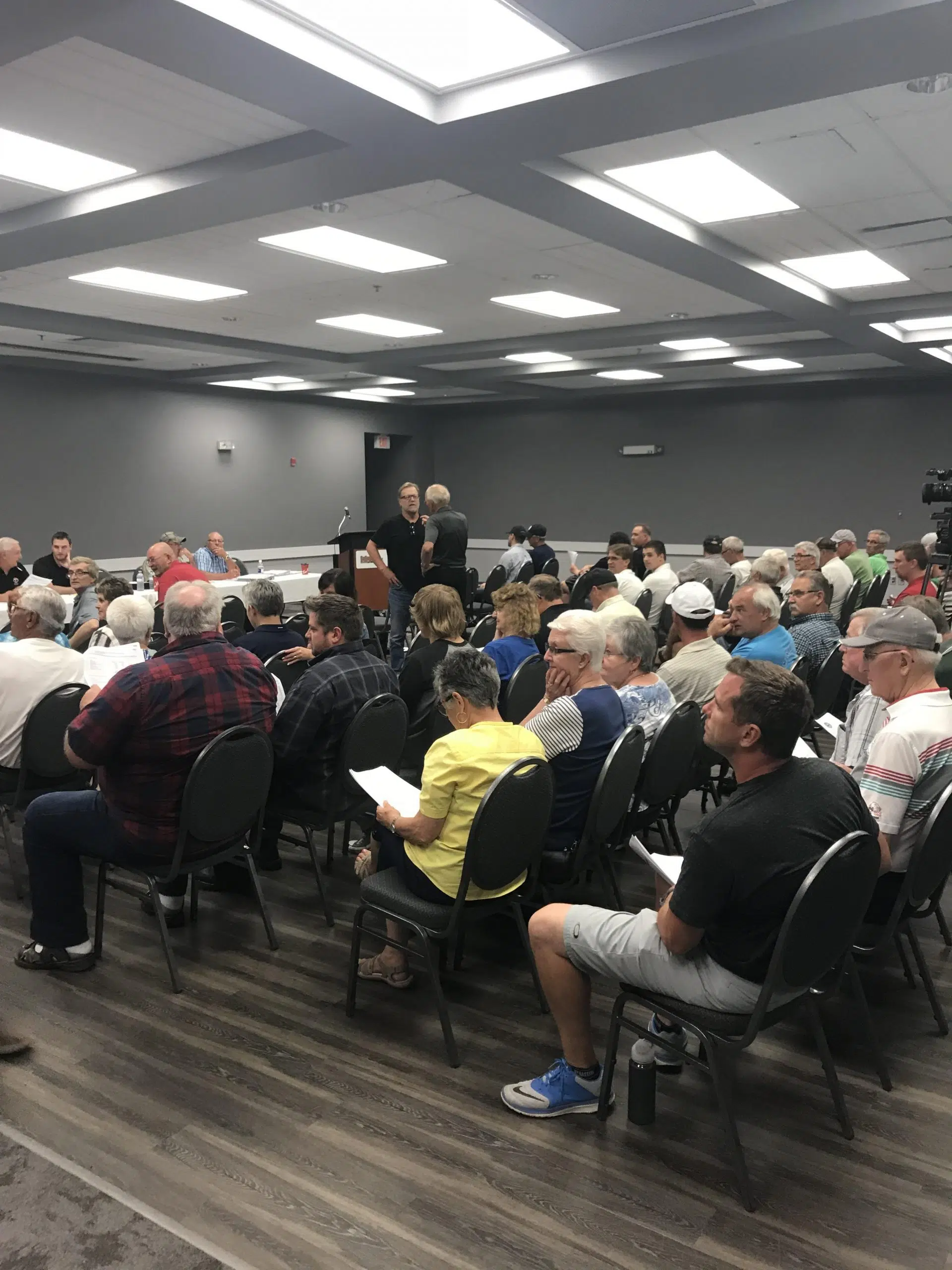 Just under 70 people were in attendance last night (Mon) at the Gallagher Center as the SJHL's Yorkton Terriers held their Annual General Meeting.
"I thought it was a great night, I was really impressed with the turnout by the folks tonight and the comments that were made, it's obvious there is a passion for the club and there was passionate people here, so I was really pleased", said Terriers Vice-President Al Sharp, who headed up the meeting.
During the meeting, Terriers Treasurer Gerry Smysniuk announced that the Terriers had a profit of $13,408 from the 2017/18 season, which is a little down from the $13,939 profit from a year ago.
Smysniuk says it's always nice to earn a profit but there is still some work to do to keep improving that total.
"Ultimately the positive thing is we did make a little bit of money, but we didn't make a whole lot of money to build up any equity and so that would be the teams focus for the future, is build up some equity for the organization"
Also at the meeting, the 10 person Yorkton Terriers 2018/19 Board of Directors was elected:
They include:
Alan Sharp (2nd year of 2-year term)
Curtis Maleschuk (2nd year of 2-year term)
John Anderson (Returns to board)
Blaine Buckle (Returns to board)
Pat Holtkamp (Returns to board)
Corvyn Neufeld (Returns to board)
Newcomers to the Board:
Chad Holinaty
Kerri Kawchuk
Chris Kosteroski
Kurt Karcha
Sharp adds now with the board in place, they are looking forward at some goals heading into the 2018/19 season.
"I look at a couple of things, putting a quality product on the ice is the number 1 thing, and I'll leave that in the hands of Mat and his stuff and the 2nd thing is to continue to build the structure for the board and continue through the strategic planning process to meet our ultimate goal of the entire organization"
Sharp also that there will be getting together in the next few weeks as a board and then from there a new executive will be determined.
Meanwhile on the Hockey Operations side, Terriers Head Coach/GM Mat Hehr announced a couple changes to his staff personnel:
-Goaltending Coach Zack Rakochy will now also be one of the teams Asst. Coaches
– Scott Musqua and Karsten Wagner will both return to the Coaching Staff as Asst. Coaches
– Asst. General Manager Ron Holloway has now been named Director of Player Personnel
-Terriers Scouting Staff now sits at 6
========================================================================
Terriers Vice President Al Sharp on the meeting, the team goals, new board and more..
Terriers Treasauer discusses the financial report that was presented at Monday's meeting
Terriers Head Coach/GM Mat Hehr talks about meeting, little changes to staff personnel and the off-season thus far.