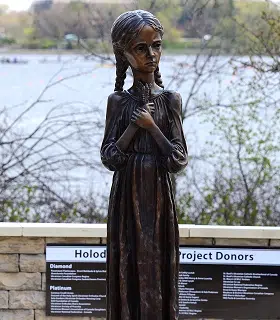 Members of Saskatchewan's Ukrainian community gathered today (Tues) to remember Holodomor.
In 1932 and '33 the Soviet Union imposed a man-made famine on Ukraine by confiscating crops, despite a record grain harvest, and implementing regulations to prevent people from leaving their communities to search for food.
This resulted in the deaths of 10-million people.
"When you understand that at least a third of those that lost their lives were children, young children, and that's why the Holodomor Memorial statue is a young, emaciated girl is because that was a large part of victims of Holodomor," explained Minister Responsible for Saskatchewan-Ukraine Relations, and Yorkton SaskParty MLA, Greg Ottenbreit who was at a service to remember the horrific event.
"And as a parent (or) grandparent to think about what those parents would have gone through 85 years ago."
Holodomor means "extermination by hunger" in Ukrainian.
Ottenbreit says recognizing Holodomor ensures we learn from history so something similar never happens again.
"Some of those educational tools that are being developed now for students to learn from, whether its literature, whether its the traveling information bus that will be coming around in April of next year, is one way of reminding us of that history and making sure we learn of that history." he added.
The memorial service was held in conjuction with Holodomor Memorial Week which runs until Sunday (Nov. 25).